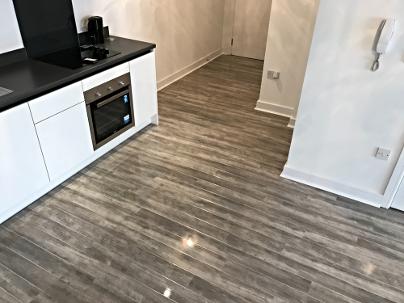 12 mm High Gloss grey Laminate Flooring with chrome strip installed in Luxury 2 bed apartment in Redditch with white Beading fitted around the edge.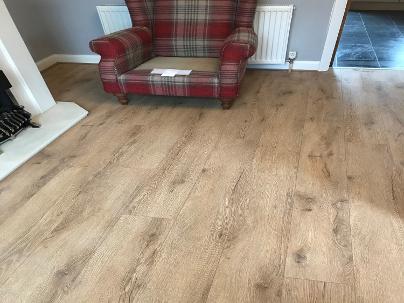 Wide plank 8mm Country oak laminate flooring fitted in a Lounge in Worcester with Oak beading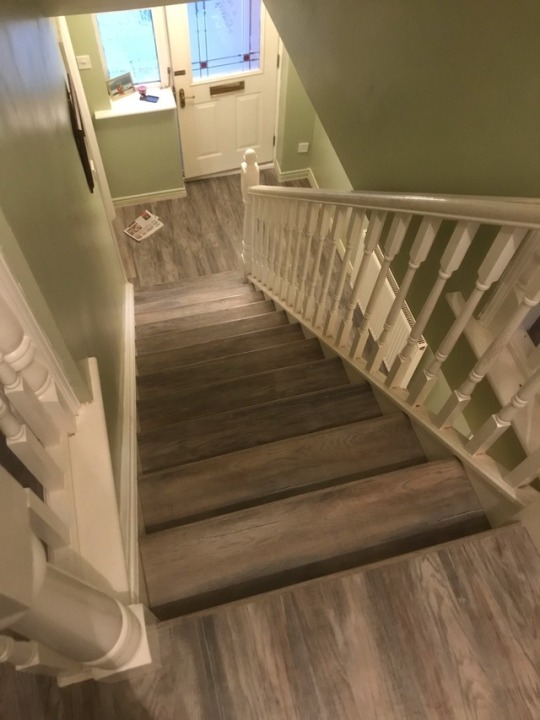 This is a mid Grey oak Laminate flooring 12mm thick. It was installed throughout 2nd floor including 4 bedrooms and landing. Then was installed to staircase and grounfloor Hallway in Redditch.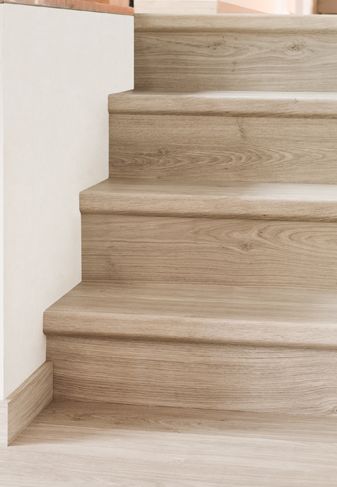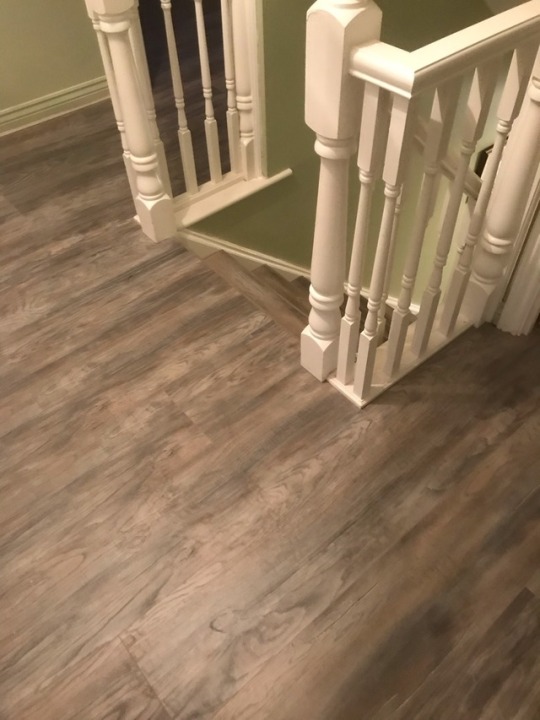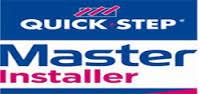 Our Quickstep master installer is trained in:-
Health and Safety
The flooring process and the manufacture of laminate, engineered and solid wood flooring
Wood structure and water and their relationship to drying, movement, moisture, saturation and humidity
Subfloor preparation, types, moisture meters, calculations smoothing compounds and contaminates
Adhesive types and application
Laminate flooring products, underlayments, layouts, installation, underfloor heating, stair cases and maintenance
Real Engineered wood, manufacturing, underlayments and acoustics, layouts, installation, underfloor heating, repairs and maintenance
Solid wood flooring, manufacturing process, products, layouts, installation, plank replacement and repairs, border work, re-squaring board bending, custom made profiling, installation of stairs and winders.... and much, much more
Highly skilled floor fitters
The majority of Laminate Flooring is installed with an underlay and floated on top of the sub floor as apposed to securing it to the floor.
Their are a number of underlays available depending on the type of floor being laid onto and the noise reduction requirements.
Our fitter is trained by "QUICKSTEP" and is a qualified MASTER INSTALLER. This ensures the fitting and instigates the product and fitting warranty offered on quickstep products.
Individual floor fitting offer the following services:-
Removal of existing flooring
Ensure sound and dry sub floor
Smooth and level concrete floors
Repair and secure wooden floorboards
Floor sealing and damp proofing
Skirting board removal and replacement
Fitting though doorways without a threshold break.
Kitchen fitting (Cupboard plinth removal, adjustment and refitting.)
Interior door height adjustment when required.
Laminate repair and board replacement.
WWW.INDIVIDUALFLOORFITTING.CO.UK
Laminate floor fitting, engineered wood floor fitting, solid timber, ceramic/ porcelain tile fitting and luxury vinyl tile fitting. floor fitters, parquet fitters, floor fitters Birmingham
Telephone:01527-873589/ Mobile:07747831820/ Email:individualfloorfitting@gmail.com/ Address: 33 Mallow Drive, Bromsgrove, worcestershire, B61 0UP